The team at Drummoyne Optometry provide and fit comfortable, high quality contact lenses for Sydney patients. There have been tremendous advances in contact lens technology in recent years. With so many types available, why not ask us if contact lenses are suitable for you?
The vision and lifestyle benefits are huge – freedom from glasses, great for sport, a boost to confidence and self-esteem when socialising and most importantly for wearers, a big leap in vision clarity.
Some people think they might be too old – or too young – to swap from eye glasses to contact lenses. Rest assured, our contact lens patients range in age from 8 to 98. An eye test is all you need to check for suitability.
Have you tried contact lenses in the past and decided they weren't for you? The comfort, flexibility and ease of use of contact lenses has come a long way in recent years. Maybe it's time to take another look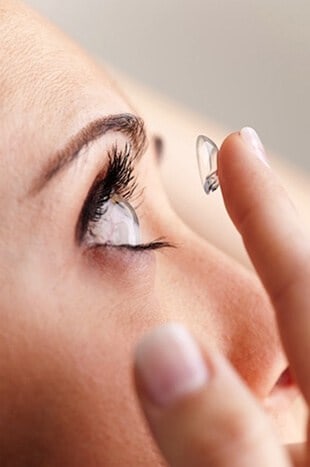 Ready to try contact lenses?
The optometrists at Drummoyne Optometry will organise a contact lens examination where we'll check your eye health, fit your contact lenses, teach you how to put in and take out your contact lenses and provide an aftercare appointment to check your progress.
Modern contact lenses are available for a wide range of prescriptions, including multifocal contact lenses, and can be long term or disposable for greater convenience. Some parts of your contact lens examination may be covered by Medicare, depending on your prescription.
Buy contact lenses online with free delivery
After your initial eye test and fitting, Drummoyne Optometry offer the convenience of online ordering for contact lenses. Ordering from us means you receive quality lenses, sourced from safe, hygienic suppliers, with full access to our after sales service. Our extensive range includes leading manufacturers like Coopervision, Bausch & Lomb, Ciba, Johnson & Johnson and premium label ProVision contact lenses, all available online from us with free Australia-wide delivery.