'Dry Eye' or "Dry Eye Syndrome" are the terms used to describe insufficient tear film production to keep your eyes lubricated and comfortable. An eye lubricant such as Hylo Forte can help reduce symptoms and discomfort.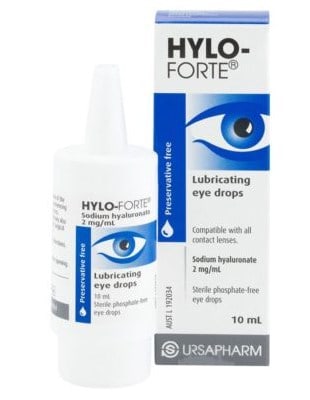 Anyone of any age can suffer from dry eye, though as we get older we tend to produce less tear film. Some medications can trigger it, as can menopause and medical conditions such as arthritis. Another key factor these days is the amount of time we all spend on computer screens and other digital devices. That, combined with air conditioning or winter heating, creates the perfect conditions for dry eye.
Hylo Forte relieves these symptoms and provides long-lasting and soothing relief. I use it myself when I suffer from dry eye. It is very easy to use, is preservative-free and is also very economical as it lasts for 6 months after opening. Hylo Forte is available at Drummoyne Optometry – speak to us about how it can assist in the management of your dry eye symptoms. We can also perform a comprehensive dry eye examination and recommend further treatments. Book an appointment online at www.drummoyneoptometry.com.au or call us on 02 9181 3157.