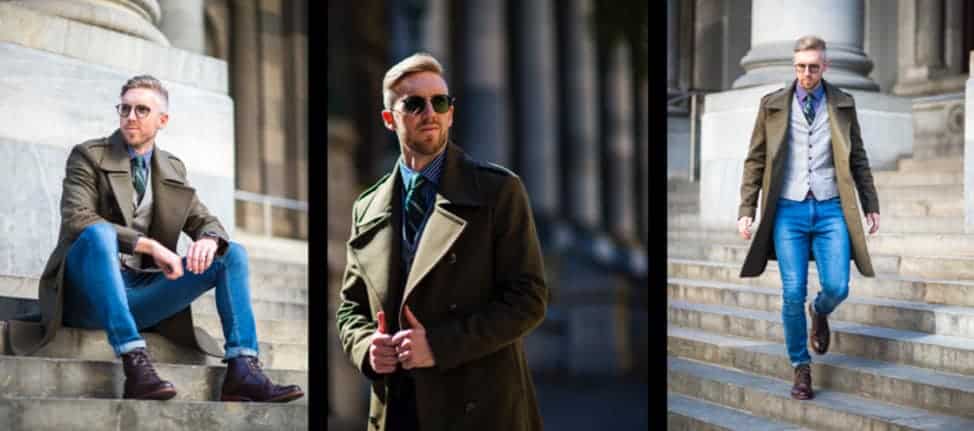 Posted April 16, 2018 by Drummoyne Optometry
---
With seemingly infinite choice of styles for glasses, nailing your look can take some consideration. Beyond finding a shape that flatters your face, there are also choices to be made about the style of your frames and lenses.
While neutral tones may seem an obvious choice for something that'll be worn daily, Steve Tilbrook, the style blogger behind the menswear blog Steve Tilly Style, says that making a statement with your glasses can be much more fun.
"In the past, eyewear trends were about looking refined–slim, dark frames that blended into your look," says Steve.
"But now, I'm looking for bright and bold, to stand out from the rest. The retro look is pretty hot at the moment and adding some colour to this brings it into the now."
No stranger to embracing colour in his daily wear, Steve encourages his readers to embrace some creativity and sense of personal style when choosing their attire.
Steve Tilly wears Transitions Style Colours in emerald. Photos: Eli Francis
"Glasses can be one of the first things people notice about you, so why not say something with them?" Steve says.
"Stylish eyewear is a great way to show people that you care about your look, and can definitely help you look confident and successful."
Since getting his Transitions® Style Colours lenses in Emerald and Amber, Steve says that they've become a staple of his daily style.
"I've had so much fun styling the emerald and amber lenses. One day I'll match them in, and another I'll use them as a contrast colour and match this with a small part of the outfit, such as a pocket square, lapel pin or tie clip," he says.
The Transitions® Style Colours Collection lenses respond to changes in light, becoming tinted in the sun. This functionality makes them ideal for daily eyewear, meaning only one pair is needed for indoors, outdoors and evenings.
In addition to 100% UV protection, the lenses also guard against the blue light omitted by devices.
Choose your colour now, and ask your optometrist for Transitions® Style Colours Collection.
---

Request an appointment
for your child
Book An Appointment